AGS Movers Warszawa
Dyrektor oddziału: Piotr Dmowski
Celtic Park Ul. Kineskopowa 1A Piaseczno 05-500
PRZEPROWADZKI Warszawa
AGS Warszawa to Twój międzynarodowy partner w zakresie przeprowadzek, oferujący spersonalizowane i innowacyjne usługi przeprowadzek oraz magazynowania dla osób prywatnych i firm. Doświadczenie oraz fachowa wiedza AGS Warszawa sprawi, że Twoja przeprowadzka będzie profesjonalna i bezproblemowa bez względu na to, dokąd się wybierasz.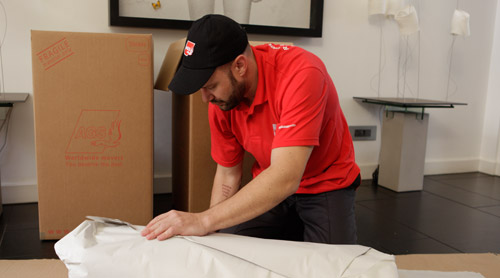 Założona w 1992 r. firma AGS Warszawa ma 26-letnie doświadczenie w branży przeprowadzek.
Jako oddział jednej z największych firm na świecie w tej branży, AGS Warszawa korzysta nie tylko z rozbudowanej sieci 147 oddziałów AGS w 100 krajach, ale także z wieloletniego doświadczenia.
AGS Warszawa zapewnia profesjonalizm i światowej klasy standardy jakości oraz oferuje swoim klientom bezkonkurencyjne usługi w zakresie przeprowadzek i magazynowania.
UZYSKAJ DARMOWĄ WYCENĘ
Domestic & International Removals Solutions
AGS International Movers offers excellence to each of its clients.
Więcej na temat AGS Warszawa
1000 m2

powierzchni magazynowej

700

przeprowadzek rocznie
---
---
Quality Standards
CERTYFIKACJA I STANDARDY JAKOŚCI
AGS Warszawa gwarantuje najlepszą jakość obsługi swoich klientów. Przez ponad czterdzieści lat Grupa AGS wytworzyła i wyznaczyła na międzynarodowym rynku ściśle określone procedury kontroli jakości, stosowane również w naszej polskiej spółce. Praktyki te wynikają z ogólnych norm jakości, ale także ze standardów ustanowionych przez najbardziej prestiżowe jednostki certyfikujące z branży przeprowadzkowej.
Te stałe standardy jakości zapewniają, że niezależnie od tego, skąd i dokąd się przeprowadzasz, Grupa AGS stara się zapewnić Ci najlepsze usługi w zakresie przeprowadzek i magazynowania.